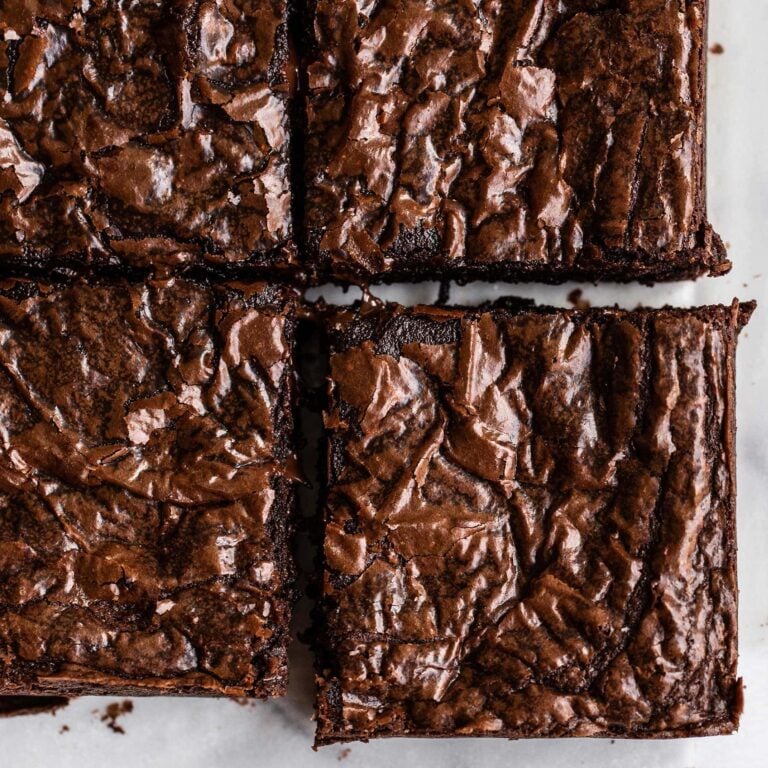 How to Make Brownies with Shiny Thin Crust
The true hallmark of a perfect brownie is one that has that enviable shiny, glossy, crinkly, tissue thin crust on top. Not every recipe yields that gorgeous crust. And not every baker can produce that crust reliably.
At least, not until they read this article! I'm diving into the science behind that shiny thin crust we all love and want for our brownies.
I have a LOT of brownie recipes in the archives of this website. Deciding which one to bake can be a challenge. The good news is that you can apply the methods I detail below to pretty much any recipe. Some of my published recipes already use these methods, and others can be benefitted from them to all but guarantee that brownie crust.
The Key To Glossy Brownie Crust? Dissolve Your Sugar Properly!
Dissolving sugar into the brownie batter is the key to developing that shiny crust.
This is a challenge for a couple reasons, and is why that shiny, glossy, tissue thin crust can feel so elusive.
If you notice your brownie batter has lots of graininess to it from the sugar, it likely won't develop a very pronounced brownie crust.
So what do we do?
There are a few methods to improve how much the sugar dissolves into the batter.
All the methods described below were tested on my most popular brownie recipe: Best Chewy Brownies. That's the recipe you see photographed in all the comparison shots in this article.
How to Make Brownies with Shiny Thin Crust
Method 1: Add Sugar to Hot Butter
There's an important caveat to understand regarding this method: sugar only dissolves in water. Not fat. In fact, you can dissolve a lot of sugar in water — twice the amount by weight of sugar in any amount of water as discussed by Dr. Pia Sorensen in Adam Ragusa's video on investigating how brownie skin forms. If you've ever made simple syrup you know how sugar can dissolve completely into water. That same effect won't happen if you heat oil and add sugar.
About twenty percent of butter is made of water. If that water content is hot from melting the butter when you add in the sugar, it will dissolve more readily into the water. This helps to create that shiny crust, not just on brownies but also chocolate cookies and even chocolate chip cookies using melted butter. I always add the sugar into the hot butter. Look what happens when you don't: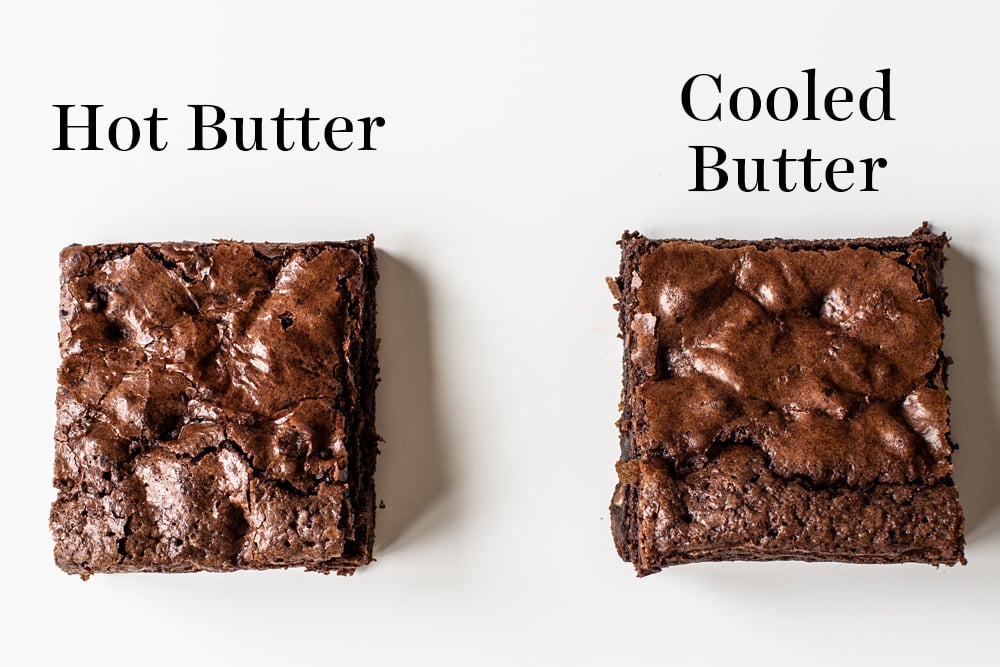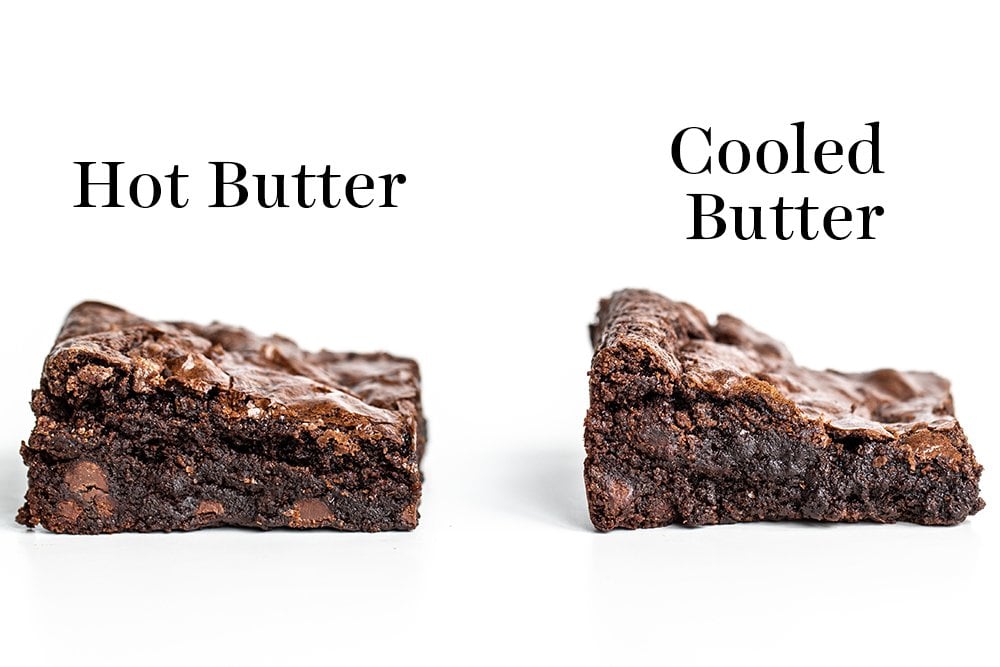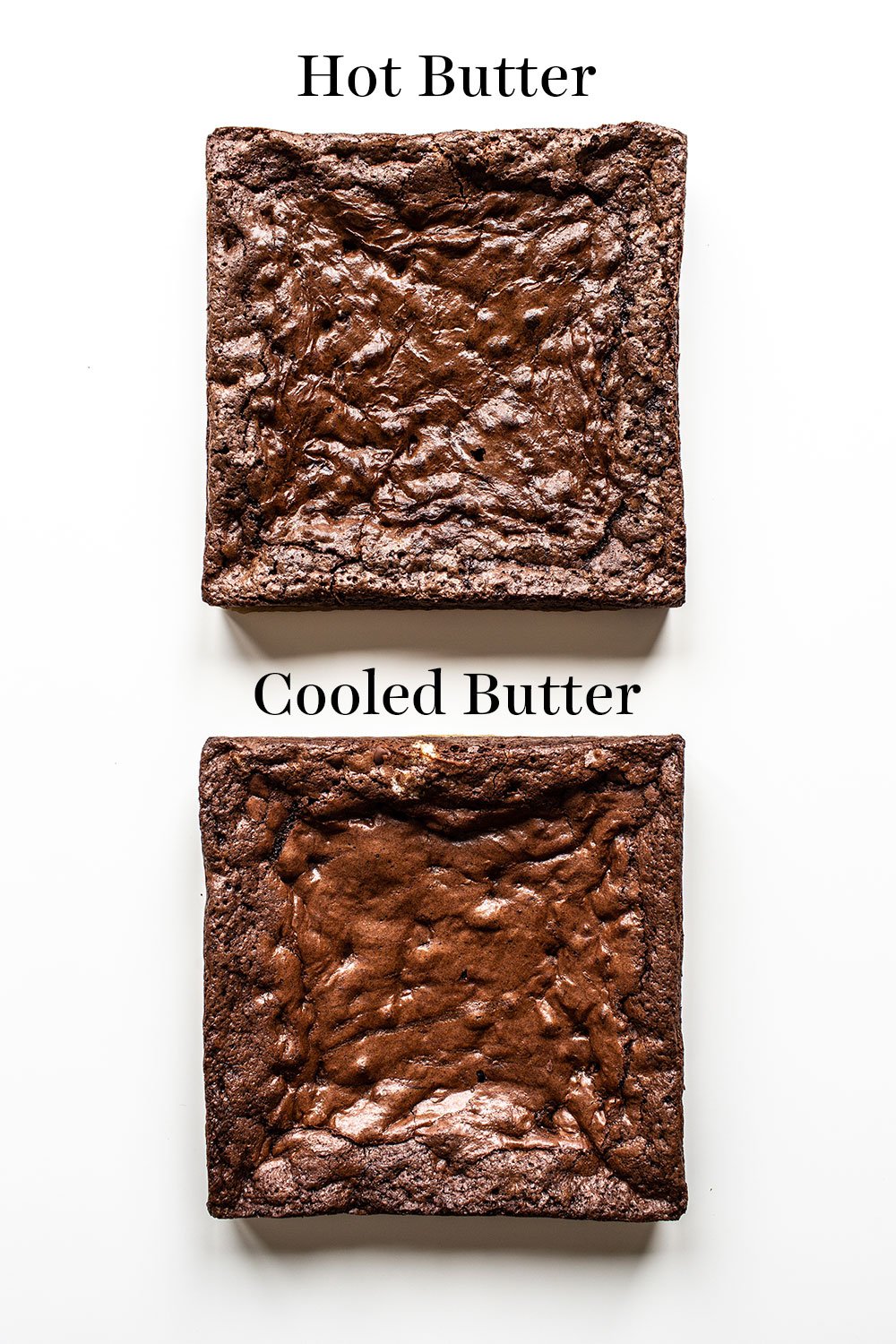 It has the added benefit of cooling the butter more quickly so you can add your eggs sooner without scrambling them.
Method 2: Whipping Eggs + Sugar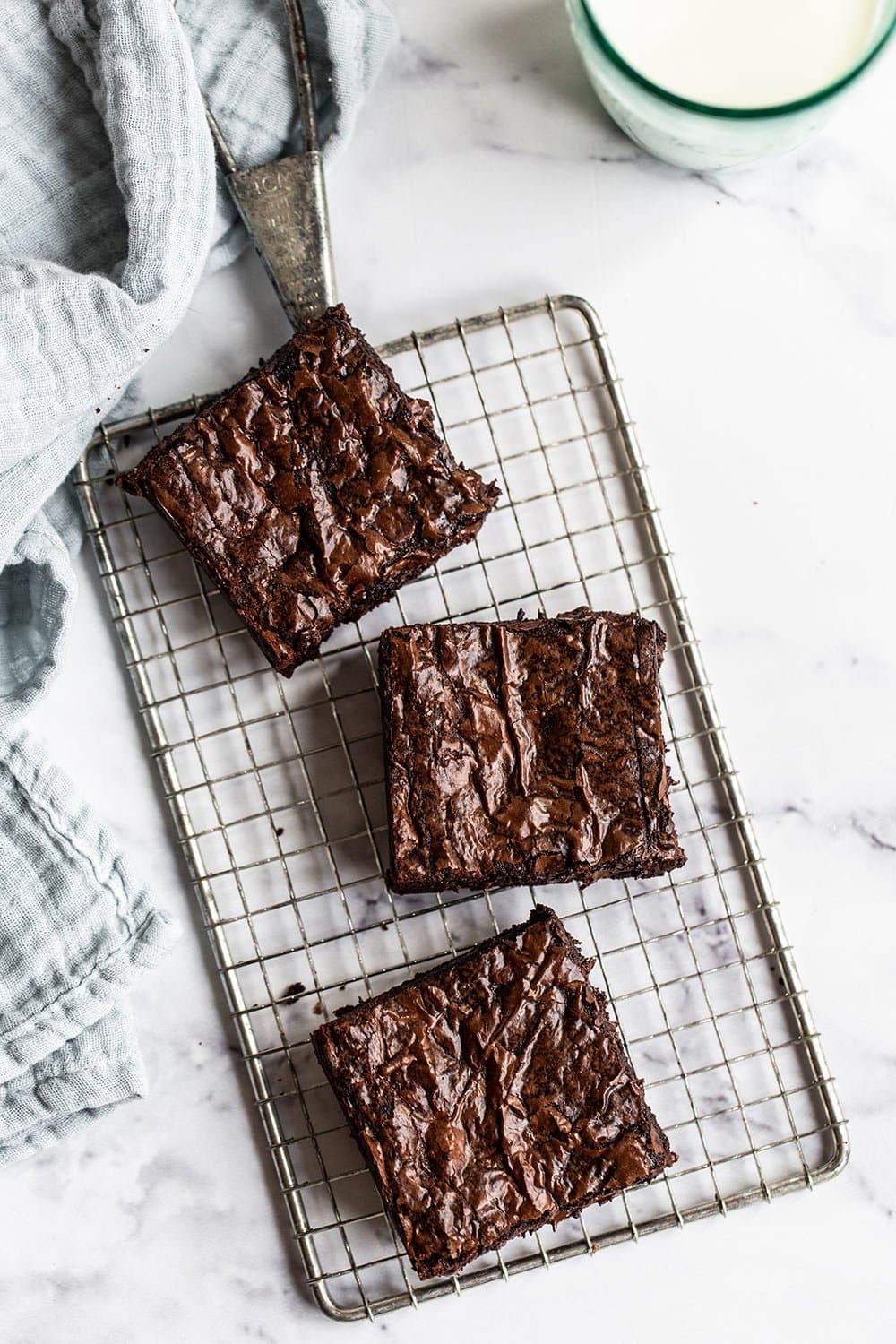 I first experimented with this technique of whisking the sugar into the eggs back in 2012. It helps to agitate the sugar to better dissolve into the water content of the egg whites and for the sugar and egg proteins to form bonds.
I originally learned about it from ScientificallySweet.com, but this meringue technique can actually be traced back as far as 1929, as Stella Parks describes in her recipe book, BraveTart: Iconic American Desserts, when discussing how Swans Down changed the brownie game by publishing a brownie recipe in a mail order cookbooklet where the "directions called for whipping the eggs with sugar and for melting the butter and chocolate into a sort of ganache. This made brownies more fudgy than cakey…"
The goal is to aerate the eggs and sugar so much that they create a foam. The intensity and structure of this foam yields different results:
In my Ultimate Fudgy Brownie recipe, I call for whipping the eggs and sugar for 3 minutes. This creates kind of a meringue crackled crust on top.
In my Brown Butter Brownies (pictured above), heavily inspired by Stella Parks, I call for beating the eggs and sugar until they're completely and totally foamed, which takes around 8 minutes. The time actually totally depends on your mixer power.
In my Best Easy Brownie recipe, I shortcut this foaming technique by calling for whisking the eggs, sugar, and butter together by hand for 1 minute. However, this is done after the sugar is added to the hot butter and melted chocolate mixture. The heat encourages dissolution of the sugar into the water content.
Method 3: Use powdered sugar instead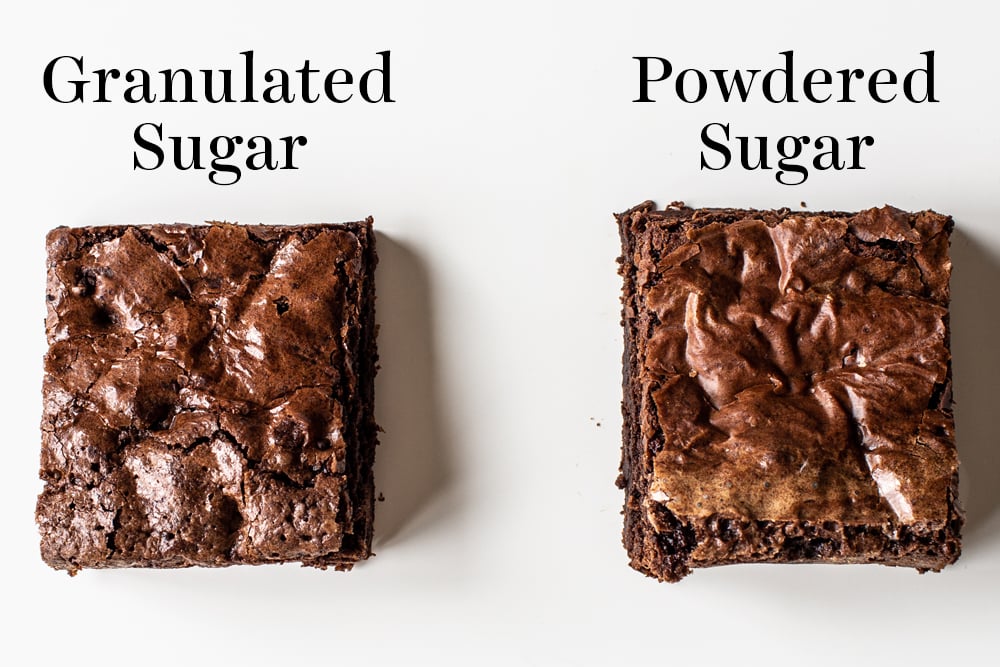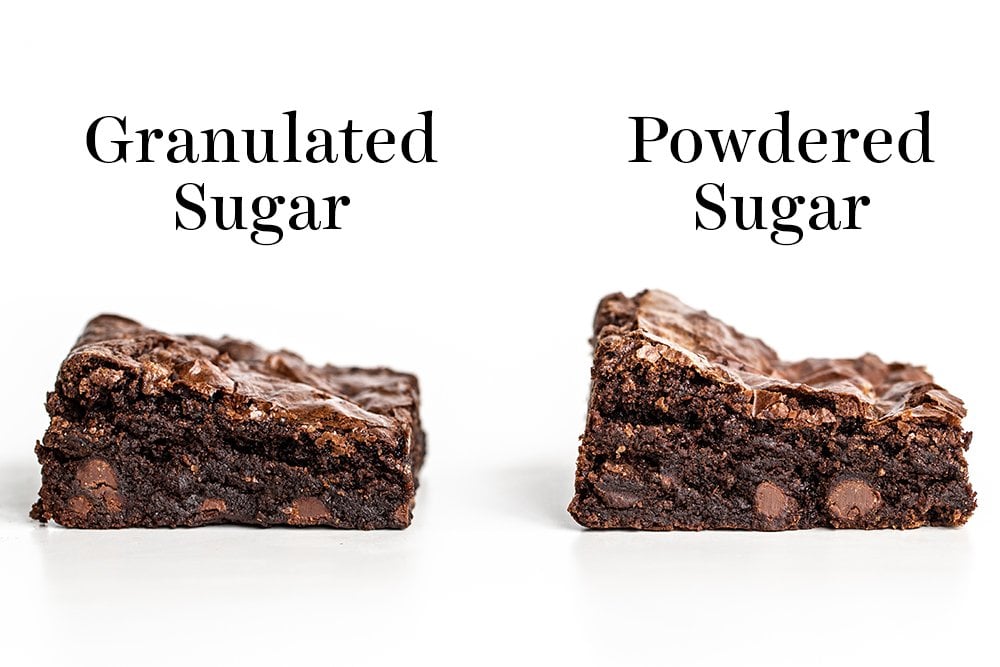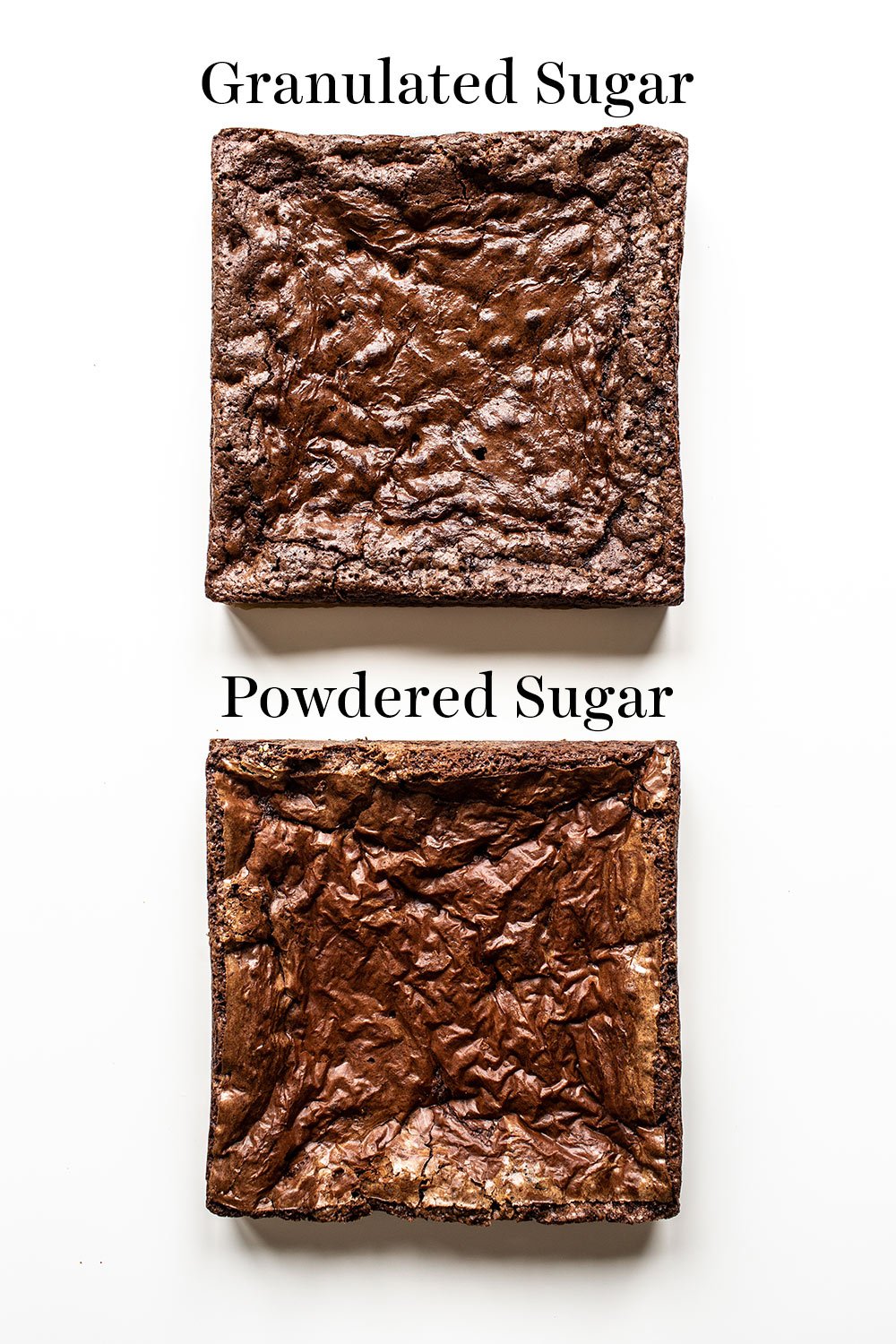 Powdered sugar is finely ground and will dissolve into the batter's water content much more quickly and easily.
Swap in powdered sugar for granulated sugar using the following conversion:
1 cup granulated sugar = 1 ½ cups plus 2 tablespoons powdered sugar
Or, better yet, use a kitchen scale and just measure the same weight of total sugar.
Important sugar consideration: Your recipe must have ENOUGH sugar to develop a tissue thin crust. The sugar creates viscosity which is required to develop that crust. Well balanced brownie recipes have enough sugar to be fudgy and moist with the crust on top without becoming cloyingly sweet.
How MOISTURE Affects Brownies in Crazy Ways!
When it comes to dissolving sugar into brownie batter, it's helpful to note there's a small amount of water content in egg whites. There's no real water content in melted chocolate. So basically, there's not a lot of places the sugar can dissolve in a low moisture recipe like brownies! This is good, because as you'll read below, too much water kills that shiny crust.
I know this seems counterintuitive since we need some water content for the sugar to dissolve into, but too much will create a looser consistency (instead of that thicker viscosity we need). This prevents the surface of the brownies from drying out enough to form that 'skin.'
That's why you'll see me use whole eggs + egg yolks in my recipes. Too many egg whites adds too much water which creates brownies that have lots of holes on top instead of a nice crust.
This is also why my Browned Butter Brownie recipe has such a brilliant crust – the butter's twenty percent water content has been evaporated in the browning process. Same goes with my Chewy Brownie recipe, which uses part butter, part oil. Oil contains no water.
The moisture conundrum is also why using brown sugar in a brownie recipe can negatively impact that glossy skin.
If you live in a very humid climate, it can be extremely difficult to achieve the brownie crust. Just like it's difficult to create meringue-based desserts in humid climates, the moisture prevents the top of the brownie batter from drying out enough to create that skin.
Method 4: Use chocolate chips
Most brownie recipes that yield that crinkly crust involve solid chocolate in one form or another. Either you're melting chocolate into your batter and/or adding chocolate chips.
One thought is that the melted chocolate contains more fat and less moisture than butter. So if a large portion of the fat in the recipe comes from chocolate, there will be less water to prevent that crust from forming.
My Best Chewy Brownie recipe contradicts this as it's made with only cocoa powder and almost always yields a shiny crust. So I decided to do some testing.
What I discovered was that the chocolate chips can make a significant contribution to the development of that brownie skin. When I've made the same brownie recipes with and without chocolate chips, the chips enhance the shiny crust on brownies: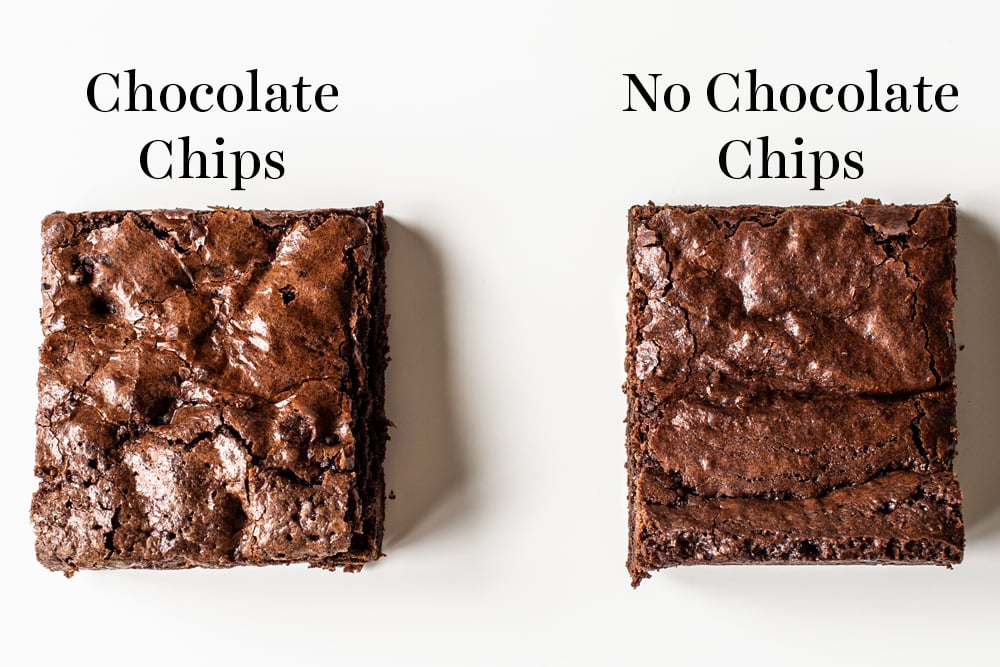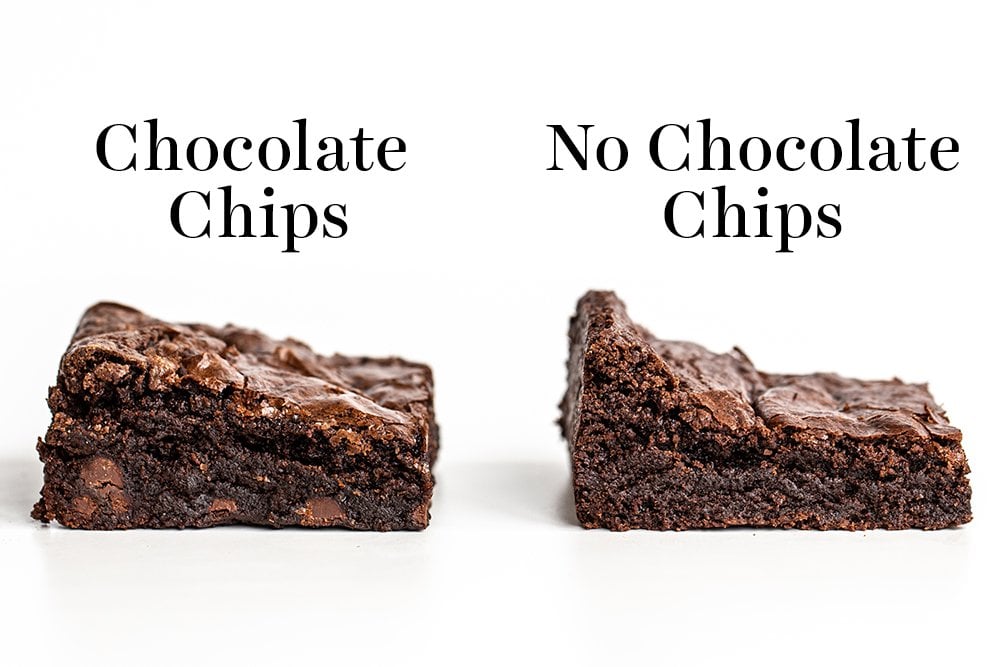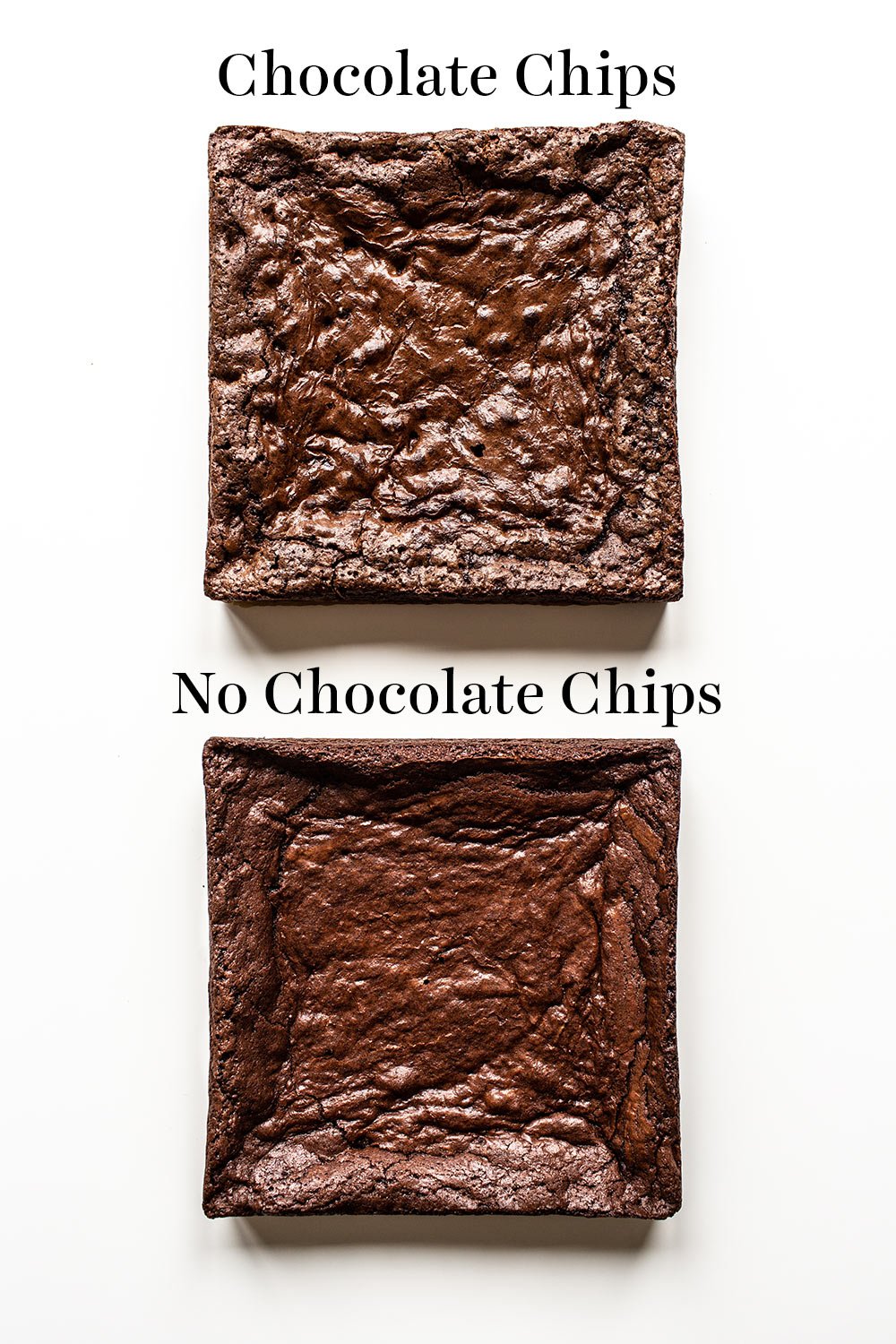 I'm not 100% sure why, but I have two thoughts on this. One is that the soy lecithin and milk solids in chocolate chips aid in the development of that crust. It could also be that chocolate chips include dissolved sugar already, and that's what helps the crust to develop.
How to Add Chocolate Chips to Brownies:
For an 8 by 8-inch pan of brownies, add around ¾ cup (128 grams) chocolate chips. For a 9 by 13-inch pan of brownies, add 1 ½ cups (256 grams) of chocolate chips. Gently fold the chips in to the brownie batter as the final ingredient.
Bonus Tip: Chill Your Brownie Batter Overnight!
Allowing the brownie batter to sit for an extended period gives the sugar time to dissolve into the water content of the batter. This also thickens the batter.
Alice Medrich, author of Seriously Bitter Sweet: The Ultimate Dessert Maker's Guide to Chocolate, writes that "refrigerating the brownie batter in the pan for several hours, or as long as two days before baking, wreaks enormous transformations: it improves the top gloss and crustiness, and it also blends the flavors so that the brownies taste much richer — and the texture is chewier too."
Here are some final side-by-side looks at the SHOCKING differences between all these brownie made from the SAME recipe!!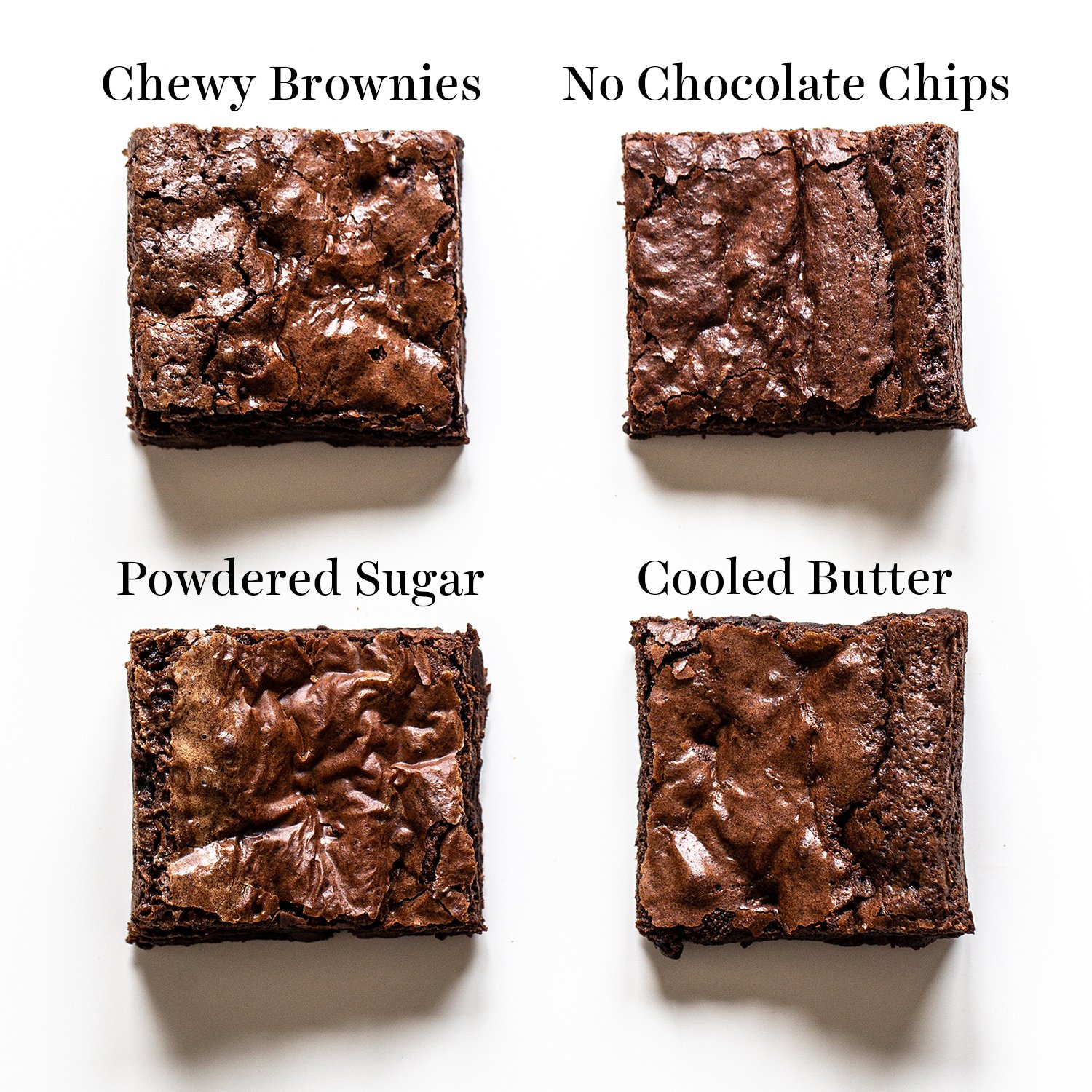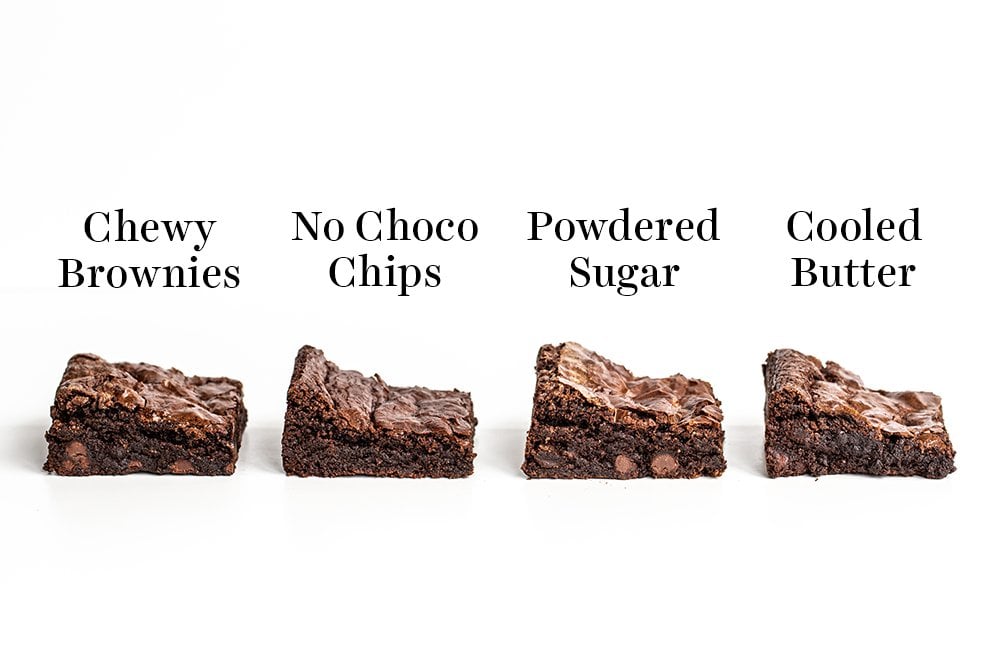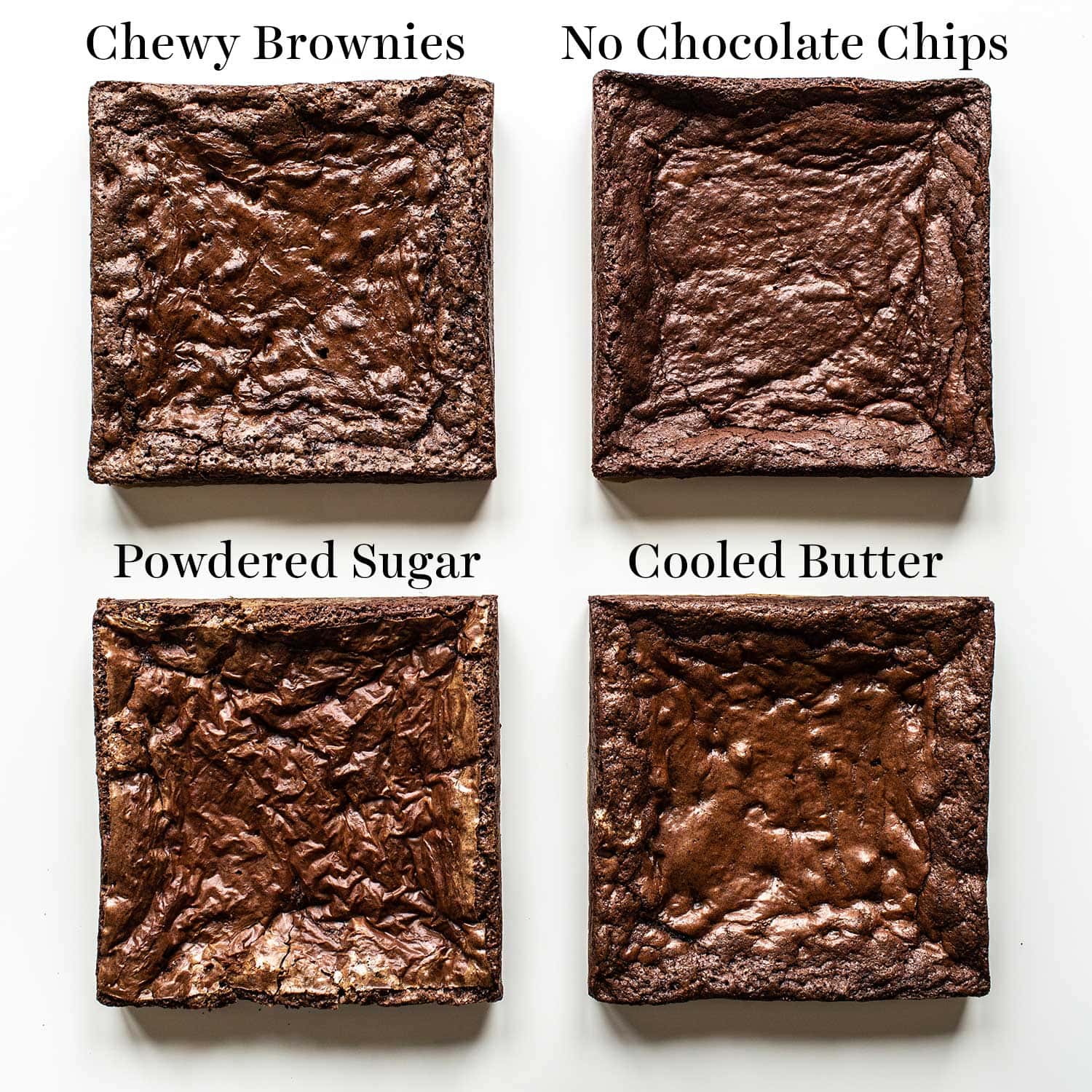 Photos by Ashley McLaughlin.
About Tessa...
I share trusted baking recipes your friends will LOVE alongside insights into the science of sweets. I'm a professionally trained chef, cookbook author, and cookie queen. I love to write about all things sweet, carb-y, and homemade. I live in Phoenix, Arizona (hence the blog name!)
© Handle the Heat - handletheheat.com
Join the Handle the Heat Community


---
Do you want a more delicious life?
Instead of digging through cookbooks and magazines and searching the internet for amazing recipes, subscribe to Handle the Heat to receive new recipe posts delivered straight to your email inbox. You'll get all the latest recipes, videos, kitchen tips and tricks AND my *free* Cookie Customization Guide (because I am the Cookie Queen)!